It's that awaited time of year once again! Black Friday, the biggest annual shopping event is back here. We all know what it means, right? Fantastic deals at Fenbro and the perfect opportunity to get those joinery products you have always wanted to buy but could never afford.  If you feel that you have waited to replace your home windows and doors for too long, now it's the time to finally make it happen.
Are you prepared for our Black Friday Promo? Read on to see exactly what's on offer!
Get ready for Fenbro Black Friday deals 2022
At Fenbro, you can find the best Polish joinery products known for their exceptional quality and reasonable prices. These are the biggest benefits that all our customers praise and highlight in the reviews they give us after each successful cooperation. You can check them out at our Google and Facebook profiles. But what if all the Fenbro joinery prices could be even more customer-friendly? Now it's possible thanks to our Black Friday Promotion that starts on November 1 and lasts up to November 25, 2022 .
Wait, does it mean that we offer you not just the weekend of the best deals but almost the whole month? Exactly! At Fenbro, we understand that purchasing new windows and doors is not an impulse buy. It is a big decision that has to be planned in advance and thought out wisely. That's why we offer you enough time to decide on what you want to buy and finalise your order with our helpful and highly reliable Sales Team!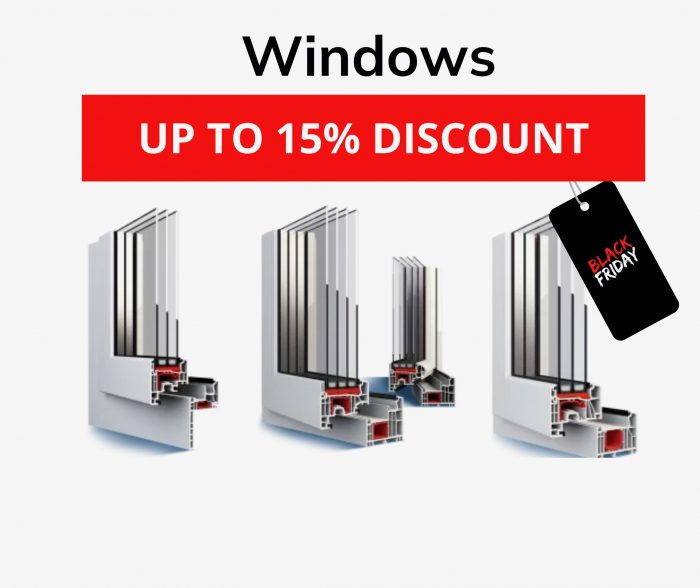 And now the best news: for all the orders finalised during the Black Friday Promotion days, you'll receive up to 15% discount on all Fenbro products, including delivery and fitting! It does not matter if you choose to buy windows, doors, sliding door systems, blinds, shutters or even garden pergolas and fences – all of them are subject to the Promotion Terms . Sounds great, doesn't it? You just have to keep in mind that Fenbro Black Friday 2022 discounts apply to the FINAL quote (in other words, summary of contract value) which is verified and confirmed with our Sales Team.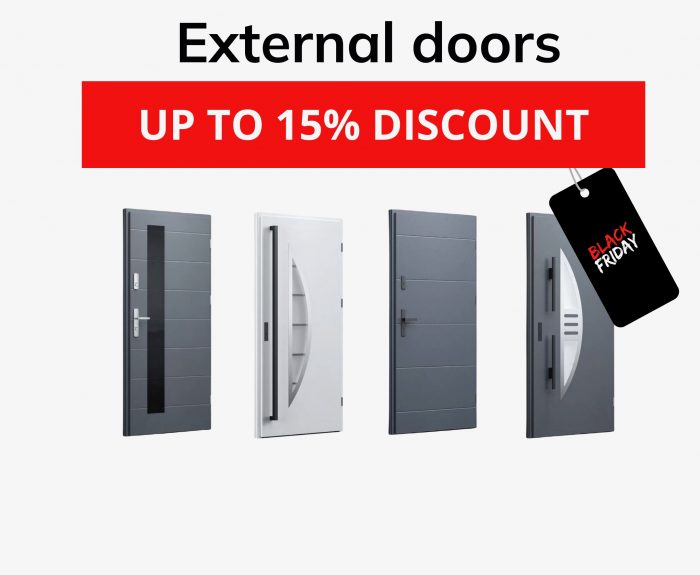 So what to do now? Simply contact us and let us prepare the offer best suited to your current joinery needs!
Black Friday savings: how to spend wisely
We all agree that Black Friday is one of the best times of the year for shopping. It has become a synonym for discounts and savings that are not to be missed! This year at Fenbro, Black Friday is surely a unique opportunity to get your favourite windows and doors at even 15 percent off.
However, the key to smart shopping during Black Friday Promotion is to choose such products that you would not be able to afford on a regular basis. And to get them much cheaper than usual! For over 3 weeks in November 2022, you will be able to buy the entire range of Fenbro products at reduced prices. To get the biggest advantage of our promotion, first of all, focus on our premium joinery items: aluminium windows, aluminium sliding doors and composite doors. Why? Well, there are numerous benefits that all these products offer: very attractive looks, unbeatable thermal efficiency, little maintenance and great longevity. Naturally, their main drawback is the cost. But when it comes to such an important element of your home as windows and doors, cheapest isn't always best. Top class joinery products could add the unquestionable value to your home – and with Fenbro Black Friday Promotion they will finally be within your reach!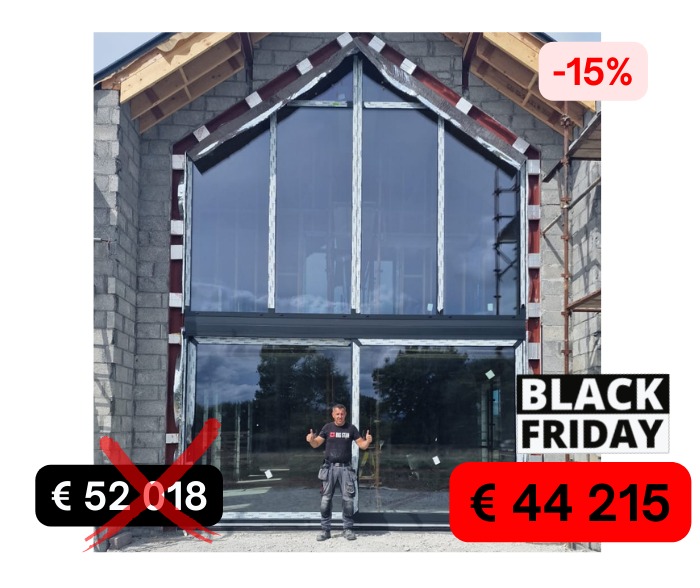 The best joinery offers at Fenbro
Buying new joinery is always a huge investment – both in terms of costs and time. With Black Friday Promotion at Fenbro, you don't have to worry about prices of new windows and doors! Thanks to our November discounts, you can save money and still enjoy some of the best Polish joinery products on the market.
And when it comes to time savings, the best solution is to turn to the specialists for advice on what windows or doors to choose. Fortunately, Fenbro joinery experts will help you in this matter as well! You can contact us whenever you need someone to explain to you how to get down to the joinery purchasing process in the first place. You can also read really useful interviews with Fenbro specialists on our Blog. Remember that for the customers in Ireland and Northern Ireland, we provide a complete service package: a free quote, products, delivery, installation and after-purchase care. Don't wait, take advantage of our Black Friday Promotion now!