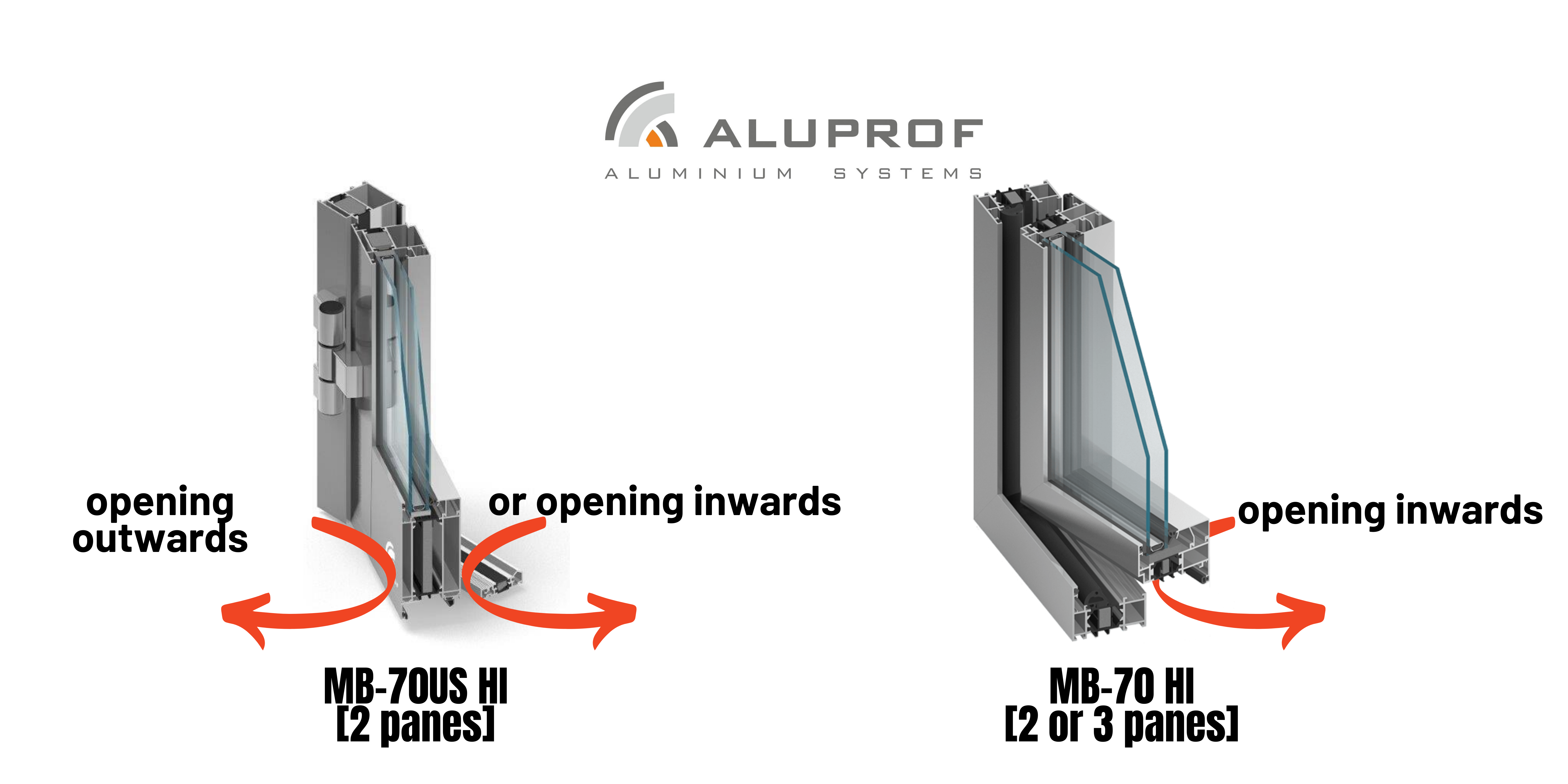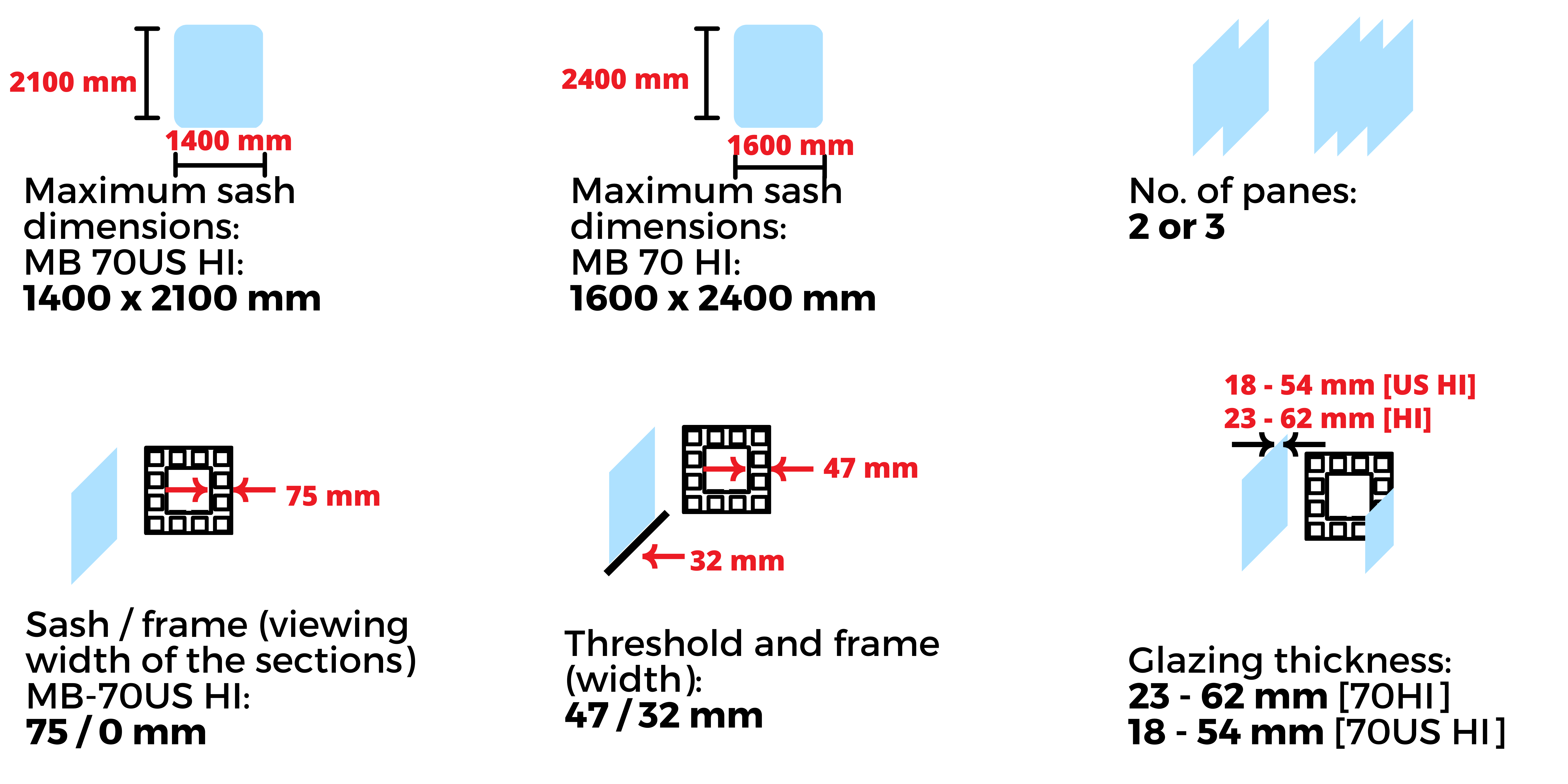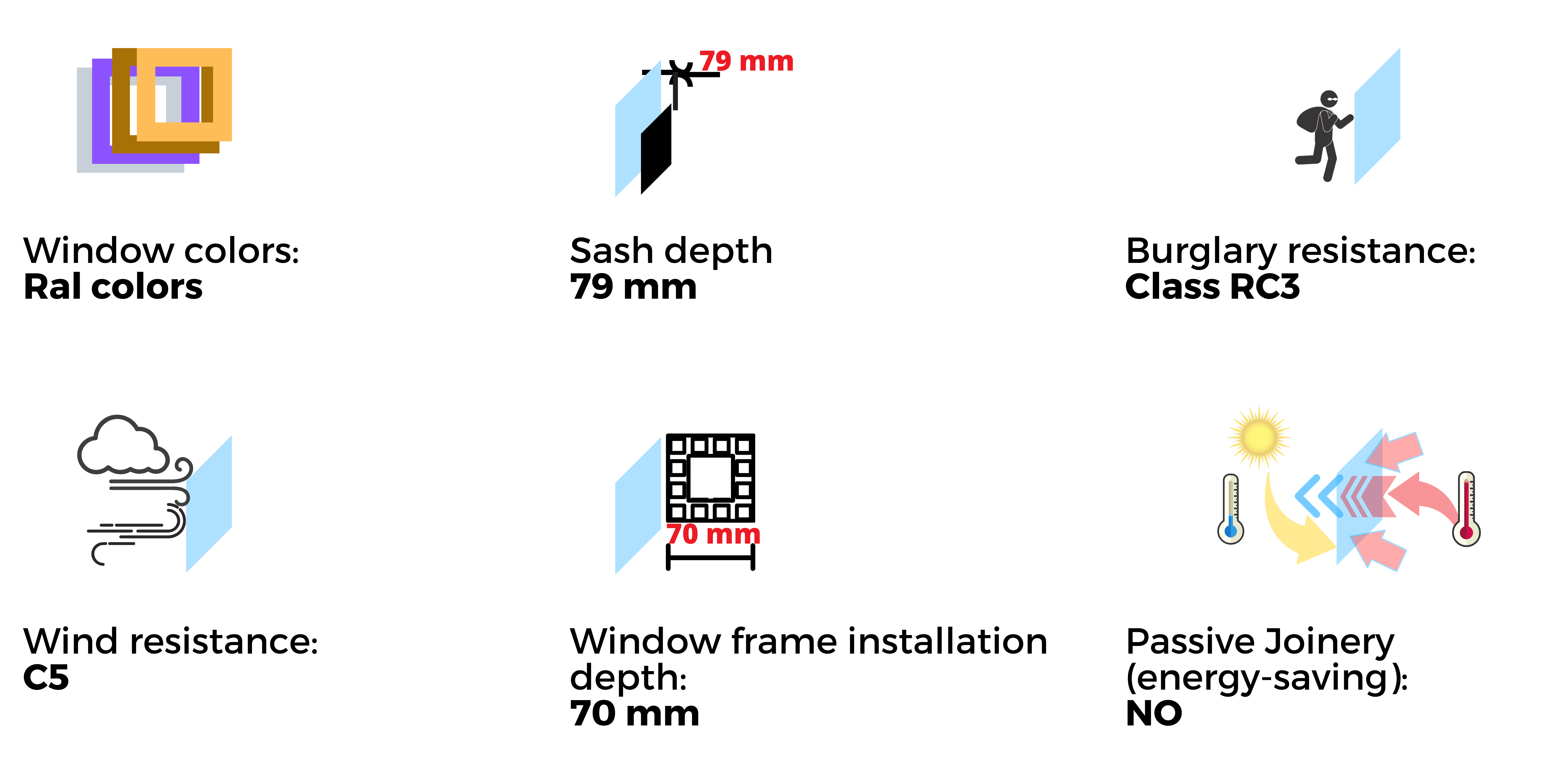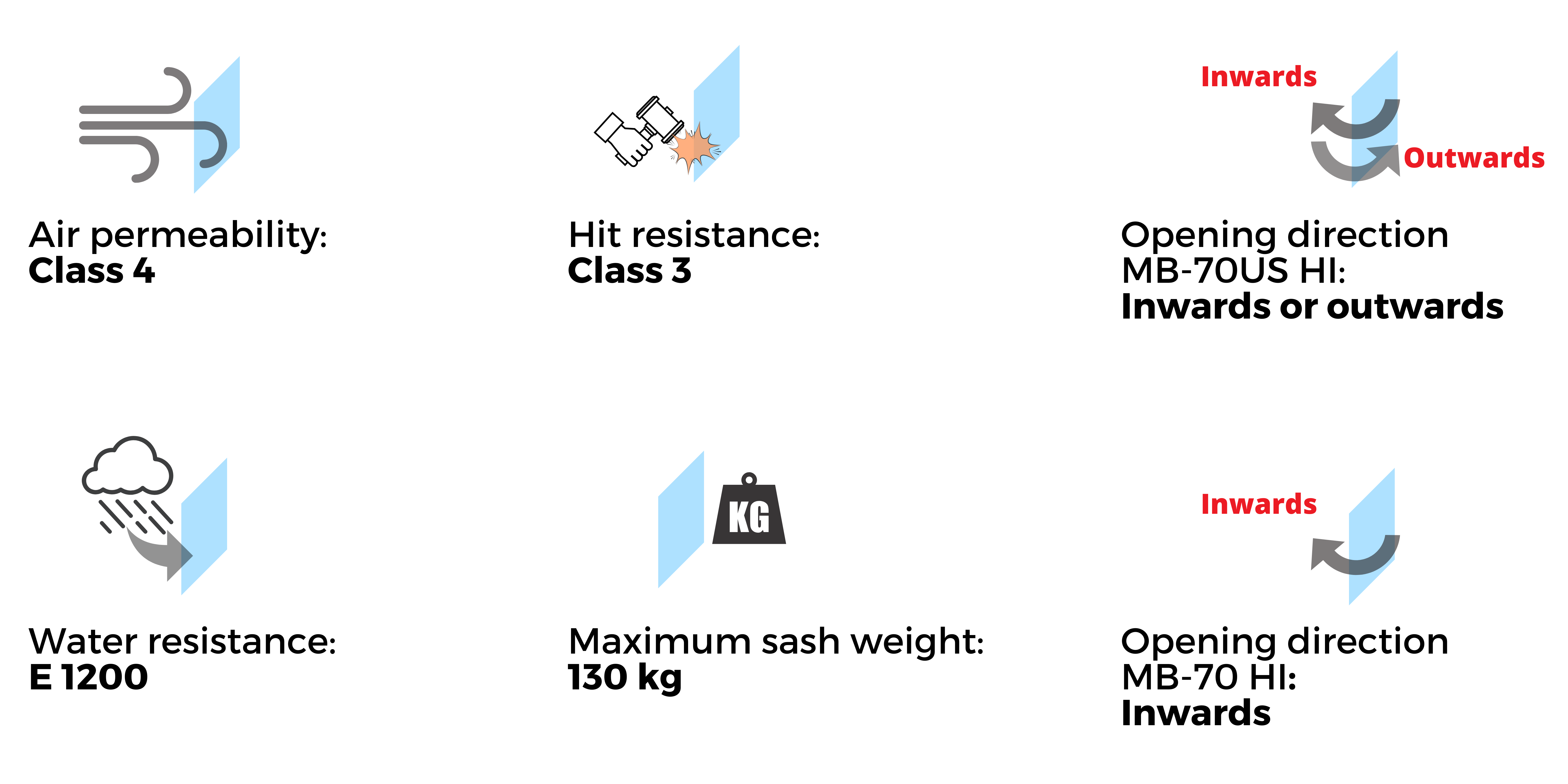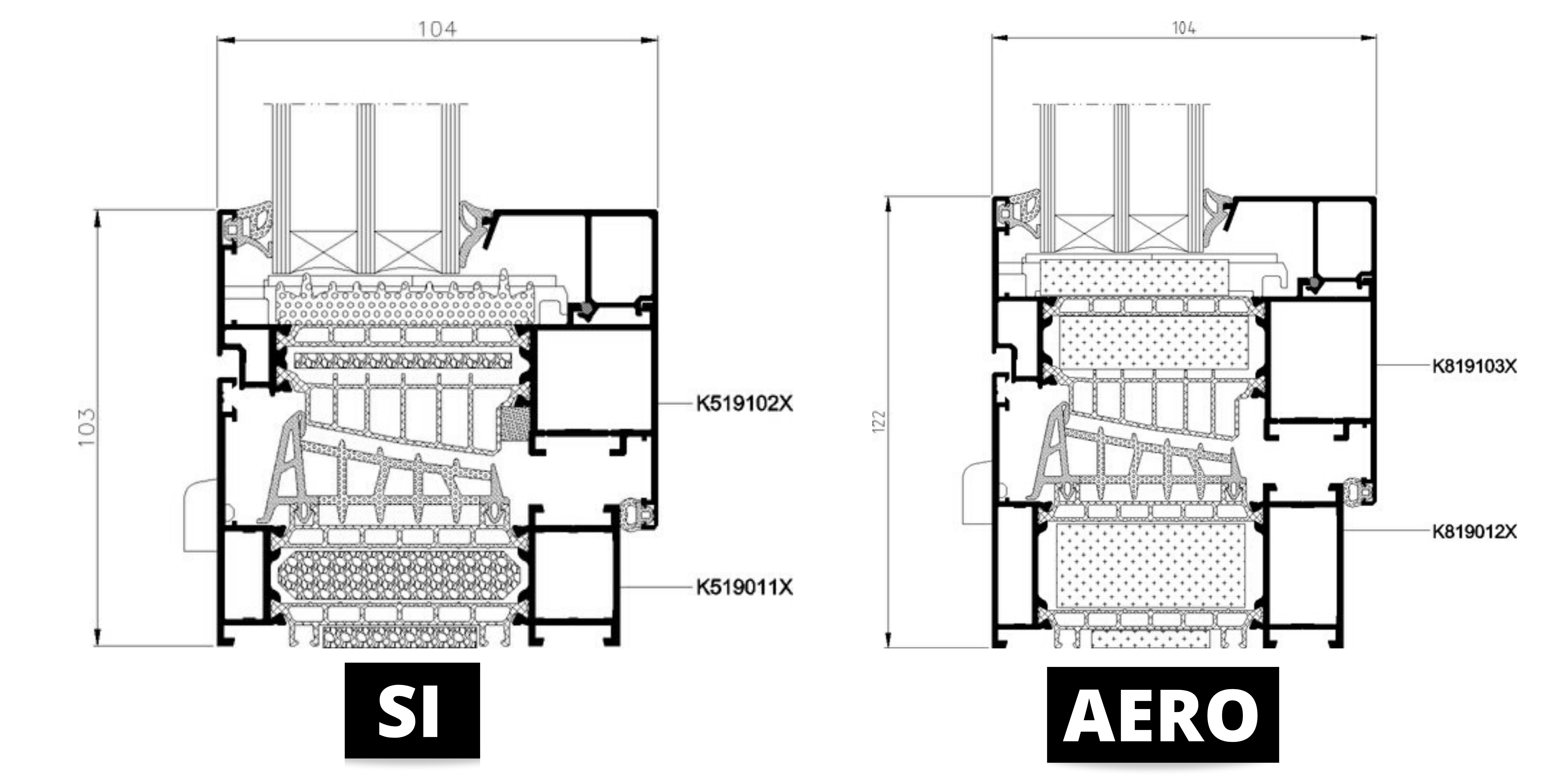 For whom?
Optimal solution for those who prefer aluminum instead of uPVC windows. Possibility to choose direction of openings. To increase insulation in construction there is possibility tu use thermal pads + 3 panes (Uw 1.0 W/m2K). You can build large construction (maximum sash dimensions is 1600 x 2400 mm)
Constructional features
Aluminium system, for applications requiring very good thermal insulation and acoustic.
It has version with increased thermal insulation achieved by using special insulating inserts inside the sections and in the space of the sub-glazing. In the MB-70 system you can make anti-burglary windows with RC4 class.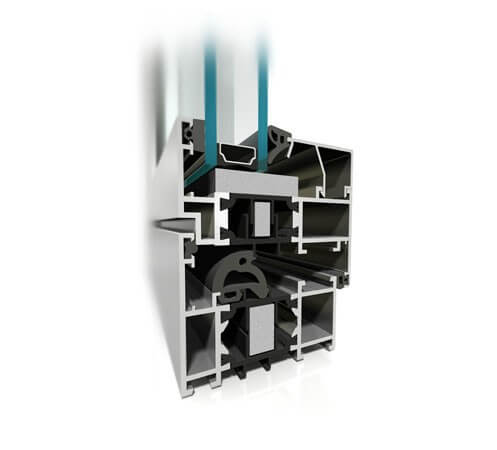 MB-70US HI
Windows made of elements of this system have sashes invisible from the outside. In a number of adjacent fixed and openable windows it is impossible to distinguish the position of these fields. The width of window frames in the view from the outside of the building is small, thanks to which the construction creates the impression of slim and light.
MB-70 HI
The thermal insulation of the frames of these systems is much higher than that of the base systems. For the MB-70HI system construction, the Uf factor, depending on the profiles and accessories used, ranges from 1.0 to 2.3 W/(m2K). The thermal insulation is increased by placing special insulating inserts in a central, insulating chamber, formed by joining aluminium profiles with thermal breaks. These inserts reduce the heat flow through the chamber due to the low value of the heat conduction coefficient. The central position of the inserts also reduces convection and thermal radiation.
Thermal pads
The system contains profiled omega-shaped thermal pads 34 mm wide (windows) made of polyamide reinforced with glass fibre. The offered shape of the spacers increases the stiffness of the profiles in relation to flat spacers and facilitates dehydration of the sections, thus ensuring proper thermal insulation in all weather conditions. Thermal separators used in windows additionally have a seal at the contact between the section and the separator and protrusions dividing the chamber between internal and external aluminium sections into three parts.
Gaskets
Tightness is ensured by the usage of special gaskets made of two-component EPDM synthetic rubber: solid and cellular, which guarantees resistance to ageing during many years of operation and very good thermal insulation. MB-70 is the first system in which this type of material was used to make a central gasket.
Glazing
The system allows the use of glazing units from 21 mm to 57 mm thick in window sashes. Such a wide range of filling thicknesses guarantees the capability of using all typical and non-standard panes.
Opening direction
The basic range of profiles allows to make inwards or outwards opening windows, thanks to its construction it allows to use many types of turn-Only, Tilt&Turn, Tilt&Slide and Fold&Slide hardware as well as folding structures.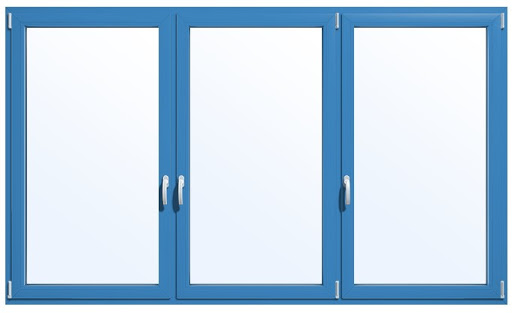 Features of the model
Variety of window functions
customised profile bending and curved window construction
Outwards or inwards opening window
Structures adapted to different types of hardware, including hidden hinges in windows, roller hinges in doors
possibility of constructing two-colour constructions: profiles may have a different colour on the outside and a different one on the inside
Choose your color
Available all RAL colors + wood-like colors