In recent years, grey has become an increasingly popular choice for home improvements across Ireland. Using grey tones for your windows and external doors gives your home a kerb appeal. It is one of the ways for a home to stand out among the rows of traditional white window-fitted properties. Grey is also a very common choice for new homes. It complements the contemporary look of modern constructions as well as creates a lovely contrast to authentic classical features, which have been modernised and upgraded.
There are two popular shades of grey in Ireland nowadays – Stale and Anthracite grey. Are you wondering what the differences between them are? Which is more popular? Which will look better against a red brick wall or perfectly complement a modern minimalist design?
Slate grey RAL7015 and Anthracite grey RALl7016: What is the difference?
Stale grey is a dark shade of grey that has been mixed with a hint of azure for a cool tone and more modern look. If you compare it to Anthracite grey windows, you will notice the shade is lighter. That makes it look softer against traditional homes. Since the shade is darker, Anthracite grey windows on red brick houses tend to stand out more, which is not bad, of course. It all depends on the look you are going for as well as the actual shade of the brick. Slate grey has earthy undertones of red and brown. That becomes more apparent when you pair it with the warm red brick exterior of traditional cottages. On the other hand, combined with a cool exterior, slate grey presents itself as blue-based which lends itself perfectly to contemporary homes and modern designs.
Anthracite grey Ral7016 is a shade darker than Slate and, as a result, often mistaken for black at first glance. The shade has a cool undertone, with deep blue and purple hues that offer an edgy twist. The colour has grown to become the most popular shade of grey available for home improvements as well as modern constructions.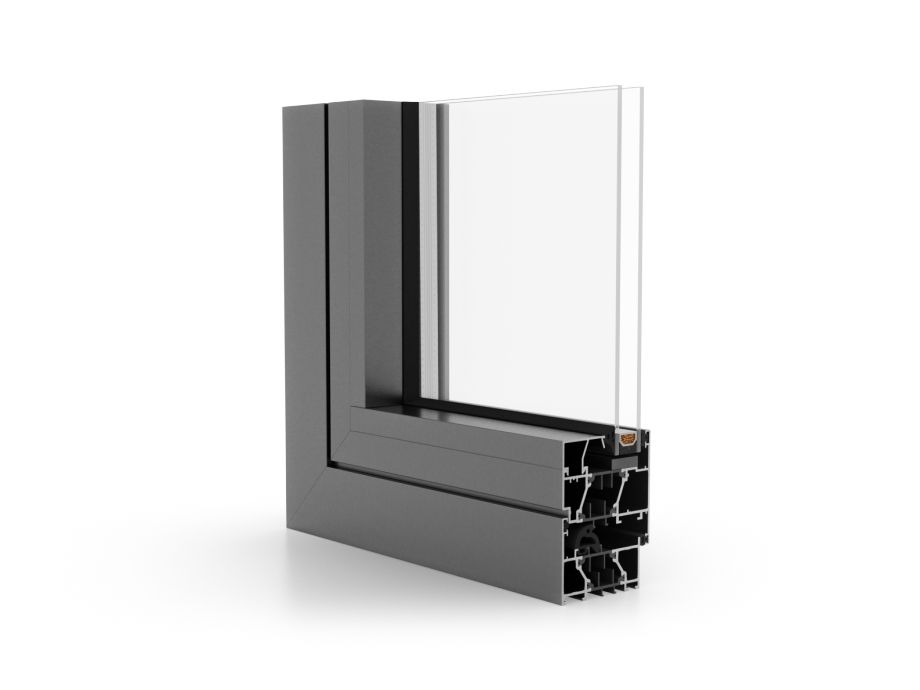 Aluminium Window MB-79N Casement
Why are Ral7016 windows and exterior doors so popular?
Every season we face some changes in colour trends. Trends in colour are heavily influenced by the current state of the world, as well as trends in different areas, such as architecture or fashion. Bearing that in mind, you won't be surprised that grey is currently one of the top colours in interior and exterior design. But why is Anthracite grey in particular?
The colour is more than versatile. Anthracite grey is able to complement virtually any exterior home colour – starting with a vast variety of natural materials, and ending with innovative facade systems. Anthracite window frames look particularly beautiful when combined with red brick, white and grey stone or cladding. They look no worse when complimenting a glass facade or facade panels in various colours.
How did it start? RAL7016 aluminium windows for commercial installations
Ral7016 was a shade of grey originally selected for commercial aluminium installations. You could see it in shops, restaurants, banks, office buildings. For some reason, the installations looked appealing. They had a unique charm of something simple and raw, which together with a growing popularity of post-industrial style, became a thing we all started to desire for ourselves. Now Ral 7016 anthracite grey windows outnumber white as well as the Irish Oak ones and are considered as a serious competition for slick black window frames.
Anthracite windows as an alternative to classic black
For years, contemporary homes have been standing out from neighbouring properties because of their classic black windows and doors. In some designs, the blacks looked great, in others it just didn't seem to be the best choice. As a shade between traditional Stale gray and black, Anthracite grey is simply the ideal alternative to both classic black and traditional white windows and doors.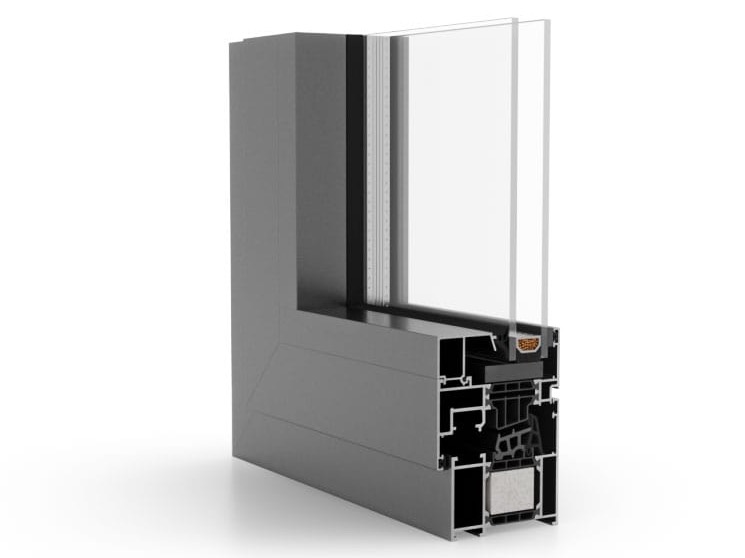 Anthracite windows: Choose from vast variety of materials
Looking for Ral7016 windows, you don't have to limit yourself to a certain material – uPVC, aluminium or timber. Instead, you can choose the windows that fully meet your needs and expectations and still enjoy the versatile shade of the window frames.
Anthracite uPVC windows
There are many advantages of Anthracite uPVC windows which have led it to being one of the most popular frame materials in Ireland. The leading advantage is the price. So, if you have to stick to a tight budget and are not willing to resign from an appealing modern look of your home, Anthracite uPVC windows are the ideal choice.
High quality uPVC windows, for example Anthracite double glazed windows, offer very good properties. uPVC is a good insulator, which means that it is able to reduce the level of outdoor noise entering your home, as well as prevent heat from escaping. It is also a resilient and robust choice of window frame. You can easily rely on the material in terms of keeping your home secure.
Anthracite aluminium windows
Aluminium window frames are low maintenance products with high durability. With proper cleaning, they will look like new for years to come. What are other advantages of Ral 7016 aluminium windows? The versatile colour for sure, but it is not the only factor.
Aluminium windows can be significantly cheaper than other window frames, especially when compared to timber frames which cost a lot more and require attentive maintenance. Although aluminium windows don't require much maintenance, they are very durable. Their lifespan is estimated to be up to 30 years. This is because aluminium is considerably more resistant to the outside elements compared to other frames. What is more, Anthracite aluminium windows are suitable for many designs. They look as good on heritage properties as on modern constructions, which explains their popularity across Ireland.
If you are going for a modern but still timeless look, aluminium window frames seem to be the best option.They will complement virtually any exterior home material and colour.
Anthracite timber windows
Wood is considered as the most aesthetically pleasing material in the window and glazing industry. It's natural and it brings a certain level of charm and character that other materials can't replicate. It's also available in a wide selection of RAL colours and for unlimited design possibilities.
Apart from meeting current trends in exterior design, Anthracite timber windows offer excellent technical parameters which translate into superior performance. A frame is the coldest part of a window. When it is made of timber, which is a natural insulator, the thermal energy loss is reduced significantly. For this reason, timber windows are defined as the most energy efficient on the market.
Furthermore, timber windows and doors are built to last. Their lifespan is estimated to be up to 60 years, which makes them the best option for customers looking for a long-term investment. Buying windows for years to come, you want to make sure that they offer timeless design and won't come out of the vogue any time soon. Choosing wood, you don't have to worry, since you can always repaint the window frames for achieving a contemporary look without having to fully replace the product.
Are Anthracite windows a good choice for my home?
Are you still wondering if Ral 7016 is the best choice for your home? Perhaps, the factor that put the final purchase decision on hold is the fear that the trend will change overnight and your new windows will soon look dated. Judging from our experience, we can assure you that the trend will stay with us for many more years. The reason is simple – RAL 7016 Anthracite grey windows offer an exceptional versatility which can be compared only to white window frames which are still very common in residential estates.
If you are looking for Anthracite grey windows, feel free to check our offer for more details. We deliver high quality doors and windows from Poland with full guarantee and installation service all over Ireland. For your convenience, we have included versatile constructions made of uPVC, aluminium and timber in our offer