Customers often wonder how we prepare quotes for windows and doors ordered online. Although the process may seem complicated, we do everything to simplify it and provide our customers with a quick and reliable response. What's more, you don't have to be a specialist to deliver information necessary for the quote. Are you interested in asking for a free windows or doors quote? Below you will find a description of the process together with information that we find essential in order to prepare a window replacement quote as well as new windows quote.
What information do you have to prepare to get a reliable quote?
Fenbro offers a vast variety of windows and doors. Our assortment includes uPVC, aluminium and timber joinery available in different sizes, colours and opening types. Deciding on certain joinery is the first step to get a quote. We know how difficult it is to choose the best doors and windows for your home- and it may seem even more difficult when you buy windows online. That's why, you can always count on our Sales Specialist, who will discuss available options with you and help you to choose the best ones. You'll get all the necessary information such as profile type, colour, glazing units and style from our Sales Specialist, so you don't have to worry about remembering all the details. The only information we need from you are your window and door dimensions.
We do our best to come back to you with a windows quote online as fast as possible. Your quote is sent in a .pdf file. The quote is detailed and fully itemised – with all parameters of your chosen joinery: a window, front door, French door, back door or sliding door). You get an email with a table containing a cost breakdown: full costs of joinery, accessories, shipping, fitting service type (renovation/new build), net value, tax, gross price, deposit, and a total price to pay.) You'll find the example below.
Pricing
Joinery
€ 2 376
Accessories
€ 0
Fitting
€ 600
Shipping
€ 300
Net price
€ 3 276
VAT (rate 13,5%)
€ 442
Gross price
€ 3 718
Deposit
€ 0
Total to pay
€ 3 718
What other information may be useful?
Preparing a window/door quote may be tricky. To avoid any misunderstandings, we always ask customers to pass on as much information as possible. In order to prepare a quote for you, we need the following details:
Model and information about required U-value
Dimensions (width x height in millimetres)
Colour from both internal and external side
Glazing: double/triple
Eir code
Contact details:email address, phone number
Asking for the quote, remember to inform us how you want your windows to open (direction of opening; inwards \ outwards). If we don't have such information, we include the standard opening type in the quote. But don't worry if you need to change any information after receiving the first quote. It doesn't matter if you made a mistake in measurements or changed your mind – we will update the quote for you, free of charge. You can introduce as many changes as you wish, even if it means transforming double-glazed windows quote into triple glazed windows quote or uPVC windows quote into timber windows quote. We are here to help you and make sure you are satisfied with the product you ordered. If you require a quote for installation services as well, kindly provide the necessary details and specify whether you are interested in a new project or windows replacement.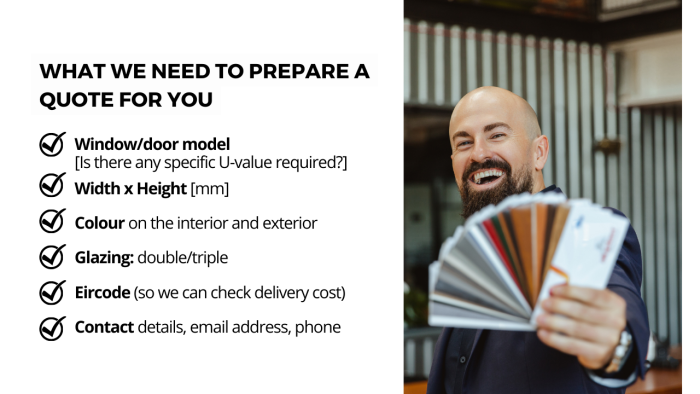 Windows and doors quote: How does Fenbro prepare it?
The whole process consists of 6 easy steps, as follows:
We prepare a quote based on the information you discussed with our Sales Specialist.
We provide you with the quote.
You have the opportunity to review the content at your convenience . If you decide to introduce any changes at this point, just inform the Sales Specialist by an email, phone, WhatsApp etc.
We prepare an update of the quote including the information given. We can prepare as many updates as necessary to provide you with the best possible windows and doors for your home or investment.
Once the quote is accepted by you, our Fitter visits you to take measurements. They also prepare a technical sketch with confirmed measurements.
We prepare the final quote that includes correct measurements, as well as your personal needs and expectations.
Once the final quote is accepted, we prepare the contract. Why do we work like that? There are two reasons. First of all, we don't offer standard windows. All our products are custom-made and thus, we need precise measurements of each window before we place an order. Secondly, we want you to be fully satisfied with your new windows and doors. For this reason, we are ready to update the first window replacement quote as many times as necessary in order to provide you with the best possible solution for your home.
You asked for a free quote. What can you expect?
To prepare a quote we need information, such as width, height [mm], profile type (uPVC, Aluminium, steel, timber), glazing units and colour. If any information is missing, we inform you about it and wait for you to complete the inquiry. In case of any doubts or questions, you can always contact our Sales Specialists who will answer all your questions and help you to fulfil the inquiry with proper information. Thanks to full support from the Fenbro Sales Team, the process of buying windows online is as simple as ordering them at a local company. The difference is the price which, in this case, is much lower. At Fenbro, you'll pay up to 30% less for uPVC windows, 35% less for timber windows and even up to 80% less for aluminium windows. Online prices are incomparably lower, while the product quality exceeds the quality of windows and doors ordered locally. And no wonder – Polish joinery is known for its high quality and versatility. Doors and windows from Poland meet both technical requirements and standards of foreign markets with ease.
We send the quote in one or several files. We price each window (you get a net price) as well as provide you with a total cost of your order. Our window quotes always contain:
visualisations, (drawing of the products)
detailed technical descriptions (parameters)
information about colours and opening schemes
cost breakdown (products, shipping, installation, other costs, tax)
We make our quotes as informative as possible, at the same time we are trying to deliver the information in a clear way. That's why you don't have to guess what certain positions in your double glazing online quote refer to and you don't have to guess the total cost of your order.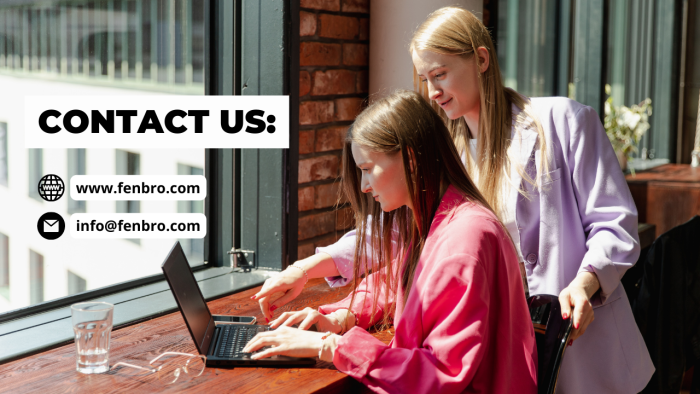 How long will you have to wait?
The quotes are usually ready on the same working day. The maximum waiting time is up to 2 working days. Sometimes the constructions are more demanding and we have to confirm certain amendments with engineers. In these cases, the maximum waiting time may be longer, but we try to limit it to 3 or 4 days. It doesn't matter if you are waiting for the composite doors online quote or want to order double-glazed windows online – we do our best to come back to you with a reliable quote and current prices in the shortest possible time.
How to understand the windows quote?
We offer windows and doors to homeowners all over Ireland and the UK. We provide English-speaking Customer service with information in English, whereas Polish-speaking customers get their quotes in Polish. What's more, we understand that our customers aren't joinery experts and thus, there can be some difficulties in interpretation of the information. If you find anything unclear, our Sales Specialists are at your service. We are happy to answer all your questions and provide you with information you find essential for a satisfactory purchase.
Buy uPVC windows online: Safe time and money with Fenbro
When you compare uPVC windows prices online to those offered by your local company, the difference is significant. A lot of homeowners are still afraid of buying joinery online. Why? There are many reasons, such as:
lack of trust to a foreign window company
lack of local showroom
insufficient level of customer service,
lack of guarantee on purchased products,
hidden costs,
low quality of the products.
Fenbro solves all the above concerns. From the very beginning, our offer is fully transparent. We have the highest quality service, which is confirmed by 5-star ratings left by our customers at our Google and Facebook profiles.
At Fenbro, we build trust and give you full product knowledge. In this way,you can see what the joinery price is made of. We offer only high quality windows and doors, together with full guarantee and support. We provide support at each stage of the order processing – from a quick response and reliable windows quote delivered online, up to professional after-sales service. That makes our offer one of the most convenient options on the joinery market!