There comes a time in your life when you realise that your windows or doors have worn out. Well, it was bound to happen – no joinery will last forever. So the first thing you do is to look for local windows and doors, right? You want to compare the offers of a few local window suppliers because you have been told that local products are always of higher quality. And while this claim is perfectly true in relation to food or beverages, it is not at all relatable when we take local windows and doors into account. Why?
The answer is simple: because there are not many windows and doors that can live up to Polish joinery brands. Poland is the leading manufacturer and exporter of joinery in the world. Polish windows and doors offer excellent value for money, providing maximum efficiency and effectiveness of the purchase. Polish companies use the best technologies and solutions in the production of joinery. In this article, we'll try to convince you that choosing them over your local window manufacturers may bring nothing but benefits. Read on to learn more!
Why purchase Polish windows and doors
We have pointed out the benefits of Polish joinery many times before. However, let's do it again here, just to convince you that it is a much better choice than your local windows and doors. Obviously, you may still opt for your local windows and doors company because people in general are more likely to favour familiar things over unfamiliar things. That's just human nature. But we kindly encourage you to give windows and doors from Fenbro a chance. They ensure security, energy efficiency and great designs – and these features are always highly valued by all the customers. The only thing you have to remember about when comparing the Fenbro offer with the offers of your local window suppliers is to analyse similar window models – namely the ones made from the same material (uPVC, aluminium or wood), with the same U-value, frame depth and colour as well as the glazing unit type. Such window features influence the final cost and any add-ons or changes in the order always entail additional charges.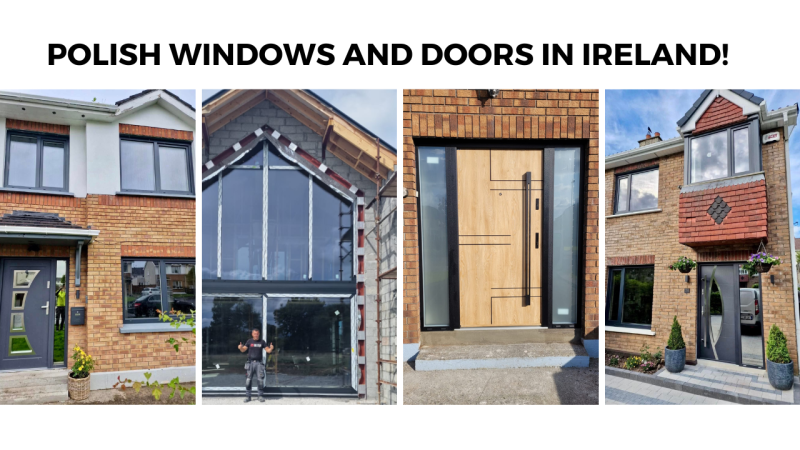 What's also important, Polish joinery is tailored to the needs of the European market and fulfils its local construction regulations. The offered window solutions are not in any way inferior to the ones provided by your local window manufacturers and include Casement (UK market), Blockprofile NL (Dutch market), Nordline (Scandinavian market), Monoblock (French market) or Renovation profiles (French and Italian markets). It's worth mentioning that together with the ordered joinery, Fenbro customers always receive a certificate in English confirming the parameters of their chosen windows and doors. Such a certificate will be needed by a local BER (Building Energy Rating) assessor to issue a "BER rating" of the house. And the higher the BER rating, the better – it can significantly improve the energy efficiency of your property and help to save money on energy bills.
The largest joinery brands in the Polish market, such as Aluplast, Aluprof or Wikęd, are recognised for their reliable and high quality products that far outperform the products of any local windows and doors company you have come across so far. Don't believe us? Just read our customers' reviews and see for yourself how Fenbro clients praise Polish windows and doors. Not to brag, but we always get 5-star ratings on Google and Facebook. Our customers are amazed not only by top quality joinery products purchased from Fenbro, but also by professional window and door fitting services offered by us. After reading about the miracles performed by our chief fitter Marcin Wojtyczko and his team, you won't think about hiring local door fitters ever again. It's as clear as day!
How Fenbro beats your local window suppliers
We have already agreed that Polish joinery is unbeatable in terms of quality and performance. Now it is time to prove that the purchase process at Fenbro can be as simple as ordering at your local windows and doors company. How is it possible? Well, just have a look at the table below – and let us explain those benefits to you in some more detail!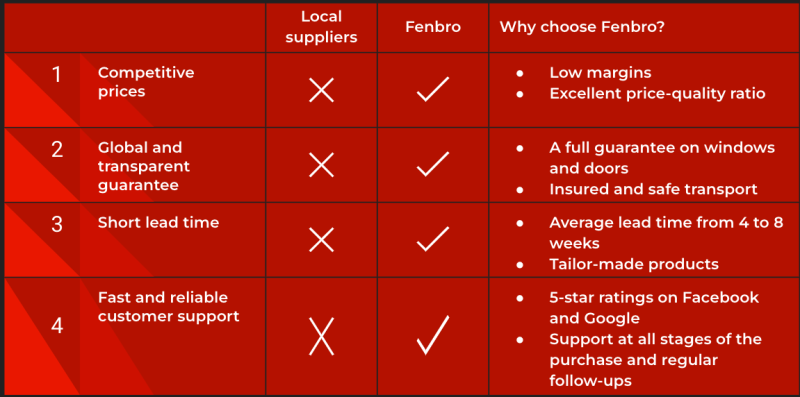 Competitive prices
First of all, we offer you much more beneficial prices than any local windows and doors company you know. The latter are known for high local margins, often increased by the rising rents of retail spaces. At the same time, online prices at Fenbro are incomparably lower, while the product quality exceeds the quality of windows and doors ordered locally. At Fenbro, every product is quoted according to individual customer needs and it includes complex and personalised window and door solutions.
What's also important, with us, you've got the access to all top brand joinery products all in one place – with one date of delivery, invoice and guarantee. That's a real bargain!
Global and transparent guarantee
While your local uPVC window suppliers may offer you limited warranty applicable only locally, here at Fenbro you get a full guarantee on all purchased windows and doors (not only UPVC, but also aluminium, steel and wooden ones) :
5 years for all our products

10 years for all VELUX products

2 years for the installation service (if it's provided by us).
In case any complaint occurs, we ask our customers for photos and the description of what exactly happened to their purchased products (preferably by an email). Depending on the type of the issue, we send spare parts, new products for replacement, or we refund the money. We deliver new products as fast as we can, so that the whole situation does not affect your plans and building projects. What is more, we offer insured and timely delivery, always in accordance with the communicated delivery date. With Fenbro you can be sure that your order is fully secured at all stages!
Short lead time
When you compare the offers of your local window manufacturers, you'll see that an average lead time in their case is generally 10 weeks. It means a lot of time on hold for your building project, doesn't it? Luckily, with Fenbro, you don't have to wait so long for your order. Our lead time ranges from 4 to 8 weeks (additionally, for every product category you have to count in 5 days for delivery time). Please remember that our customers often require complex window and door solutions, tailored according to their needs and requirements of their building projects. We offer an individual and personalised approach to each order.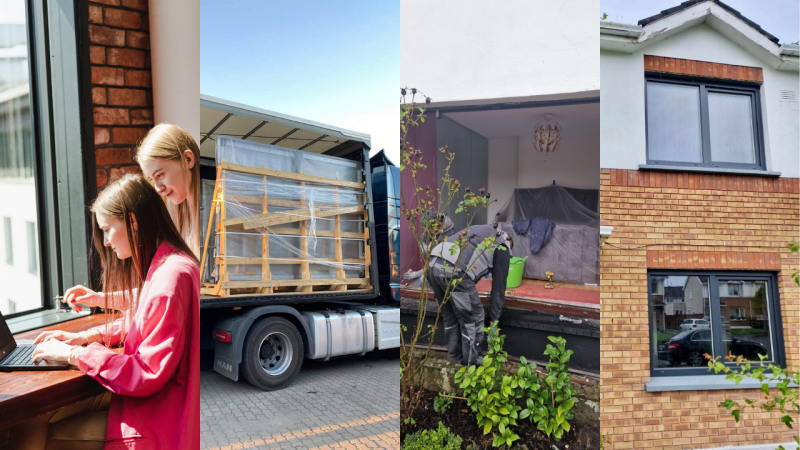 Fast and reliable customer support
Have you ever been annoyed by long or delayed response times of the customer service at your local door company? What's the longest you have to wait for a call back when searching for local windows and doors? Well, we can promise that at Fenbro we take your mind off such problems straight away!
Our professional and friendly Sales Team offers the best customer support during both the sales process and after-sales service. Our Sales Specialists are always eager to help you with their expertise and advice to make the whole purchase process as easy and satisfying as possible. Our customers especially appreciate regular follow-ups, thanks to which they know exactly what is happening with their order and when. 5-star reviews on our Google and Facebook profiles speak for themselves – check them out if you want to be 100% sure that Fenbro is the best window and door supplier for you!
Fenbro – the best choice for windows and doors
Are you wondering how to avoid unnecessary costs and stress associated with selecting windows for your home? Well, the answer is simple: find professionals and ask them for help! However, visiting a local window and door company still seems to be the smartest decision to many customers. They want to look into the seller's eyes, shake hands and be convinced that they are doing the right thing – even though they could pay up to 50% less for the windows and doors with the same parameters (and much better quality!) if they bought them from Poland.
We know that it can feel like a leap of faith when purchasing joinery from far afield, but at Fenbro, we promise full professionalism, support and attention to detail during the whole sales process. Many customers are already recommending us – follow their example and ask us for a free and detailed sales quote here!