So it has begun – shorter days and longer nights. The most nostalgic time of the year is here and we all want to make the most of the sunshine that is still available. It would be great to push autumn away as far as possible, wouldn't it? Although it is not exactly possible, there is one great way to fully enjoy the late summer at home. Undoubtedly, it is maximising the amount of natural light with modern and effective sliding door systems. The large glass area ensures excellent lighting of the interior and gives a sense of space and integration with the environment. The good news is that Fenbro has just introduced five new top-class sliding door models into its offer – and in this article we'll take a closer look at all of them!
Why choose sliding patio doors
But before we'll go into details of each new sliding door system you can buy at Fenbro, we have to focus on the obvious advantages of such a home design solution. Sliding doors are made up of glass panels that slide open horizontally. They don't swing open, so naturally, they require less space to operate. With wide sliding doors, you can transform sitting rooms, dining rooms and kitchens adjacent to a garden or yard into bright, attractive, airy spaces which bring a touch of the outdoors inside.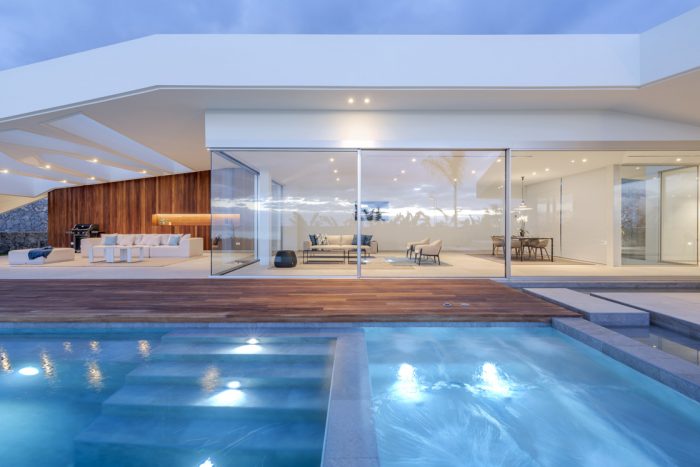 Aluminium sliding systems are worth special attention here. Thanks to the presence of aluminium as a framing material, they are resistant to corrosion, rust and decay. They provide exceptional strength, durability and safety, as well as smooth operation. What is more, aluminium sliding patio doors are characterised by very good thermal insulation properties, so, consequently, they improve the energy-efficiency of your home. And the latter is extremely important when we want to not only enjoy impressive views, but also feel cosy and comfortable during long cold months to come.
Obvious pros of sliding door systems
Modern sliding doors available at Fenbro are perfect for single-family homes, exclusive apartments and hotels, where they provide easy access to balconies or patios. They can also be used in public buildings or commercial facilities to separate open space in an effective and unique way.
However, it is not just their visual appearance that makes them a worthwhile investment. To sum up their advantages, we have provided a list of the most important benefits:
More sunlight

: Sliding glass doors allow more natural light in and brighten up the room.

Effortless movement between indoors and outdoors:

Sliding doors change the entire home aesthetics by opening up the space and creating a gateway between inner and outer spaces.

Panoramic views

: Large glass panels can create a "window wall" that enables you to enjoy beautiful views all year round.

Space savings

: Sliding doors move by sliding along the door track and, as a result, do not eat up too much space. Thanks to it, you have more free space to work with when it comes to furnishing your home.
A new level of comfort with the latest top-class sliding door systems
The sliding door systems offered by Fenbro allow for any arrangement of terraces, balconies and winter gardens. A large glazing area will optically enlarge your rooms and illuminate the interior. Thanks to the solutions provided by us, your house will open up to the view outside the window, regardless if it is a garden, forest or maybe even sea? Thanks to a modern barrier-free (flush) threshold as standard, you can enjoy maximum comfort and optimal thermal insulation. All the five new sliding door systems are the perfect solution for both new construction and renovation. Let's get to know them better!
Aluminium Sliding Doors COR Vision and COR Vision Plus by Cortizo
Cortizo COR Vision and COR Vision Plus sliding door systems are a minimalistic option with almost invisible frames. A large glazing area combined with excellent parameters will open up the interior of your house and at the same time increase the value of your investment.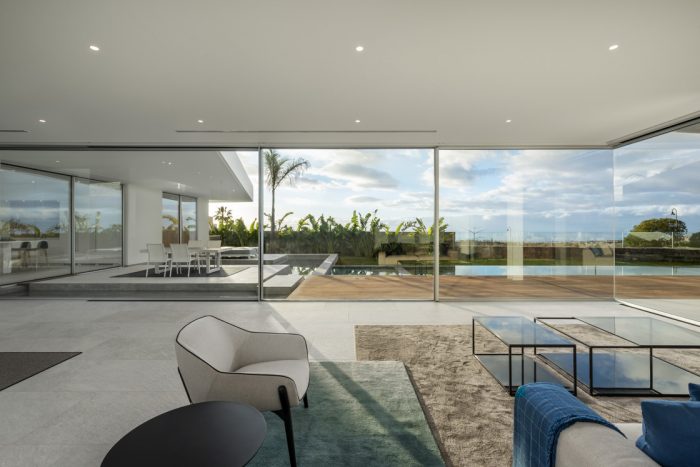 COR Vision Plus is a premium product of the highest quality. It is an innovative system of sliding windows designed especially for large surfaces (up to 4,000 mm in width and height). Thanks to its design, it is possible to cover up to 94% of the surface with glazing. The visible section of the profile is only 25 mm. COR Vision Plus provides very good acoustic and thermal parameters, as well as the possibility of automatic opening up to a weight of 700 kg, and manual opening up to 400 kg. There is also a very interesting effect of the so-called 'glass corner'. It can be achieved with the use of a corner sash with an angle of 90°.
Check the products on our webpage and ask for a free quote:
https://fenbro.com/product/aluminium-sliding-doors-cor-vision/
https://fenbro.com/product/aluminium-sliding-doors-cor-vision-plus/
Aluminium Sliding Doors Hi-Finity by Reynares
Hi-Finity is the elegant aluminium sliding system characterised by floor-to-ceiling and wall-to-wall fully concealed profiles. The slim profiles are exceptionally strong – they can carry sliding glass panes of up to 750 kilograms, and fixed panels of up to 1,200 kilograms. You can buy it as a two, three, four or six-panel door. In the case of Reynares Hi-Finity, an infinite and unobstructed view is combined with impressive performances. That's why it is a perfect choice for any low-energy contemporary building.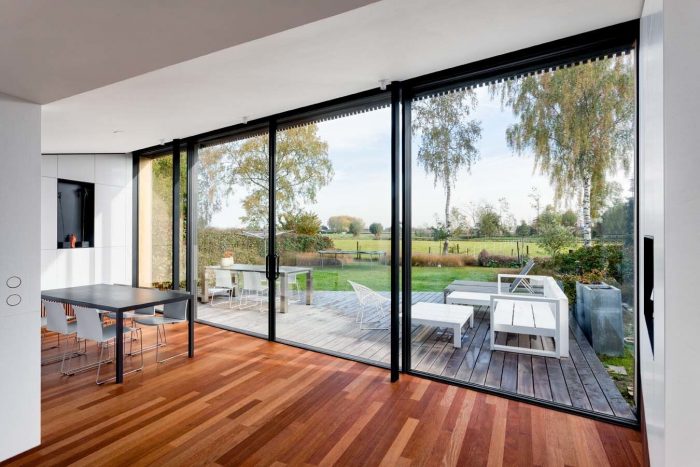 For more technical details, go here:
https://fenbro.com/product/aluminium-sliding-doors-hi-finity/
Aluminium Sliding Doors MB-SKYLINE by Aluprof
Aluprof's MB-SKYLINE is another sliding door system in the Fenbro offer, with an invisible frame and thin profiles. As a result, it looks very stylish and minimalistic and suits modern interiors perfectly. This sliding patio door model provides a comfortable, threshold-free (flush) connection of indoor and outdoor living spaces. The doors created on the basis of this system can be very large (sashes up to 700 kg and up to 4 m high!), yet, thanks to their slim construction, they give the impression of lightness and delicacy. The unique design of MB-SKYLINE surely raises the profile of any building project!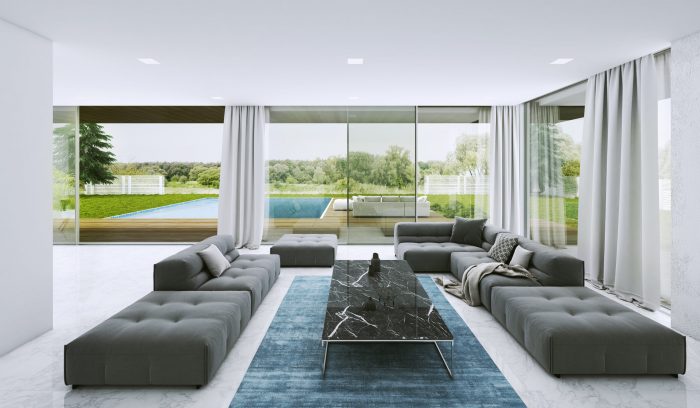 If you want to learn more about MB-SKYLINE, click on the link below:
https://fenbro.com/product/aluminium-sliding-doors-mb-skyline/
Aluminium Sliding Doors Moreview by Yawal
Last but not least, there is Yawal's Moreview – a large sliding door system with slim profiles completely concealed in the floor, walls and ceiling. The state-of-the-art, minimalist design of this solution can be well summed-up by the following words: less frame – more view. The Moreview system allows for designing glazing walls without aluminium elements being visible from outside. This effect is enhanced by the threshold-free construction and the glass corner, allowing for connecting glass sheets at any angle. If we add transparency up to 98% and the structures with the height up to 4 m, we get unlimited possibilities to design any communal space and blur the boundary between the house interior and the outside surroundings.
Impressed? Find out more about Moreview benefits:
https://fenbro.com/product/aluminium-sliding-doors-moreview/
Summary
A soothing, relaxing view outside your window and the well-lit interior is many people's dream for their home. Looking out over an expanse of greenery has a long-lasting association with holidays and sunshine – and large glazing areas help to make the most of this desired scene. Want to know more about your sliding door options and their benefits for your current or future home?
Check out the Fenbro offer: